About Us
Khamitovs Team is a growing team of talented and creative professionals who are united in their passion for creating indie games.
Khamitovs Team was originally founded by Azaliya Khamitova and Ural Khamitov in 2013. Our mission is to make new games and create new opportunities. We are based in St. Petersburg, Russia, but we work with talented people from all over the world.
Team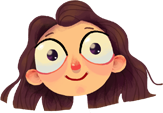 Azaliya Khamitova
Team Lead, Programmer
azaliya@khamitovs.team

Ural Khamitov
Programmer
ural@khamitovs.team
Support
Feel free to contact us about any technical problems or questions you may have concerning our games.